Keyword Research Tools Roundup
So you've got a real winning product, a great offer, and amazing ideas, but maybe the traffic just isn't rolling in the way you had hoped. It is common to believe that we already know how to target our desired users, and what brings them to our site. This can lead to a narrow perspective, alienating individuals unfamiliar with your industry jargon. How can you predict changes in demand, cater to your audience, and help users find your content? Keyword Research – its time to find out what your consumers are actively seeking! Permit me to highlight a few of many wonderful tools that will help you do just that.
Google AdWords: Keyword Tool –
Cost: Free
Google's keyword research tool compiles search activity across its search engine, globally, and provides users with valuable keyword search statistics. This tool suggests related terms and phrases. Perhaps one of the most useful features is the ability to organize keyword phrases by their distinguishing characteristics, such as Geo or category.

SEMRush
Cost: starting at $69.95 monthly
SEMRush aggregates organic and paid keywords for existing sites. Organic and paid keywords are based on data collected from ten Google country-code top-level-domains (ccTLD) and Bing US. Additionally this tool can be used to suggest related keywords and phrases simply by searching your chosen term.
Cost: starting at $89/month or $495/year
Spyfu is a rather versatile tool, with many useful features, including their Keyword SmartSearch. The hallmark characteristic of Spyfu is the ability to "spy" on your competition by comparing organic and Adwords keywords.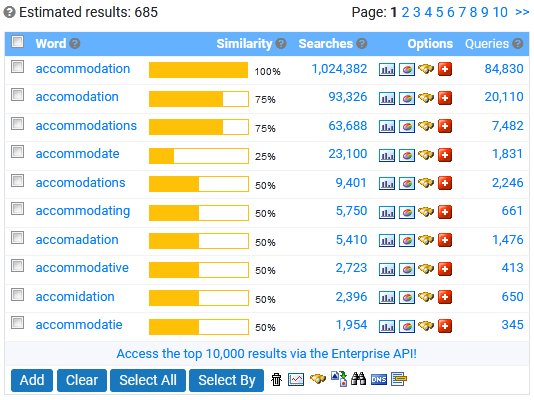 Cost: starting at 30 day free trial, $69.95/month, or $599.40/year
Keyword Discovery blends global search statistics from all major search engines. Beyond standard keyword ranking, volume, and analysis, this tool also assists with identifying other useful niches and tactics, such as statistics on spelling mistakes and seasonal trends.
Cost: starting at 30 day free trial, $59/month, $329/year
Wordtracker Keyword Tool is a powerful tool for organizing multiple campaigns. In addition to keeping your projects seperate, this tool is also very useful for comparing keyword lists across Wordtracker's own database, as well as Google AdWords API and PPC metrics.
Cost: starting at free trial, $299/month with 6 month commitment, $399 month to month, $2,700/year
WordStream Keyword Research Suite has many useful features for keyword research, including Keyword Suggestion, Keyword Niche Finder, and Keyword Grouper. These tools work in concert to help you go from kicking off a new campaign, to building out ad groups for PPC campaigns, identifying topics for creating SEO content, and even analyzing your organic search results for trends.
Finally, it is time to refine your keywords and develop a baseline for your rankings. Remember to keep your keyword phrases relevant and descriptive of the content you are promoting. Intelligent optimization of your site for the right keyword phrases can be the difference between a user finding your website or not.